Sediment Sampler
This Sampler is ideal for very soft saturated samples and environmental sampling, e.g. river beds. It has been used to take samples on a tailings dam at depths of more than 70m, where the qt values were between 0.2 – 1.0 MPa. Sample recovery was 100% due to the sampler's use of a bladder to seal the sample tube before recovery.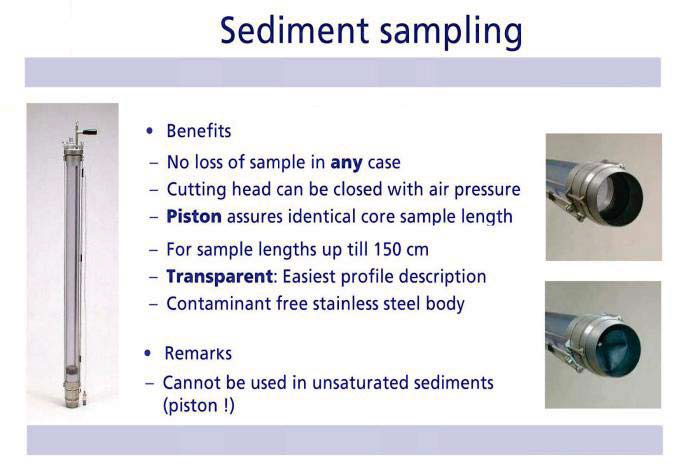 Piston Sampler
Changes have been made to our Piston Sampler, giving the piston a better seal and therefore improving the sample recovery. We have recently achieved 100% recovery from a tailings dam at qt 0.4MPa.
Improvements have also been made to the locking mechanism to increase efficiency of operation.
Electronic Shear Vane
When casing is not required, the Shear Vane can now be used with a slip coupling. The slip coupling allows the
rods to turn approximately 14o before the Vane begins to turn. This action assists in removing rod friction from
shear calculations.
'Floating' CPT Testing – Marshbuggy
We have recently completed the first 'floating' CPT tests using the Marshbuggy. Testing was undertaken on a tailings dam where winch, ropes and shore anchors were used to steady the rig. CPTu testing was completed to depths of more than 70m.
Probedrill employed the services of MMD Naval Architects to conduct stability testing on the Marshbuggy. A design for additional pontoons was determined, and once built further stability testing was conducted.