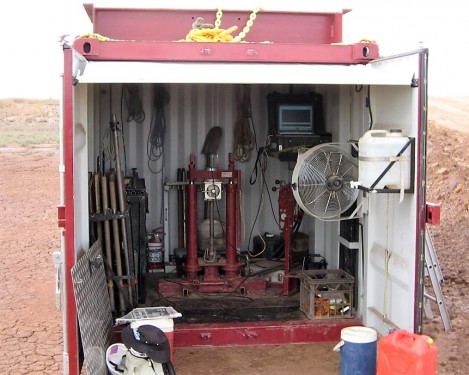 CPT Rig Specifications
Height (while travelling):
2.6m
Height (while probing)
2.6m
Length:
2.2m
Width:
2.4m
For use in areas such as:
Outside Perth Metro area
Our Container Rig is a modified 8ft Sea Container and is perfect for jobs outside of the Perth Metro area as its lighter weight means reduced mob/demob costs associated with transportation.  All CPT Equipment is packed inside the Container ready for transporting.
Once on site, the Container Rig is lifted and transported to the testing locations using a 30 tonne excavator (additional excavator hire costs may be incurred if client cannot provide an excavator on site).  If access is limited, we can attach the container rig directly to the excavator (without the use of chains) so that the rig can be lifted up (or down) a steep slope, while the excavator stays on flat ground.
The excavator is then used to provide reaction weight during testing, giving the rig an approximate 12 tonne pushing capacity (if used in conjunction with a 30t excavator).
The Container Rig can be used for numerous situations such as:
working on a dumb barge platform in tidal areas;
being lowered into hard to reach places by a crane; and
working on a jack-up barge in conjunction with a drilling program.