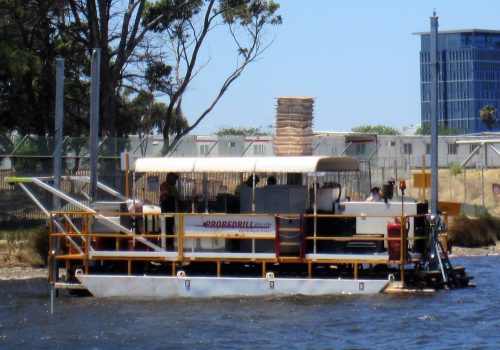 In April 2015, we successfully conducted testing with the Marshbuggy Rig in the Swan River using spud leg attachments in order to provide increased stability and anchorage.
This was a major achievement as typically we cannot carry out testing while the rig is floating as the rig needs to be stationary to alleviate any uncontrolled lateral movement of the CPT rods.  By attaching the spud legs, it provides a quick and effective anchorage system in the shallow, protected waters, where rope anchors are not consider suitable.
The spud legs will provide stability for water depths of approximately 4.5m.
On this occasion we were able to push the rig up to 15MPa (floating) before refusal.
In January 2017 we once again used the Pontoon with Spud-legs set up on our Marshbuggy Rig to undertake 3 x CPTu's (with dissipation tests) in the Swan River, near the New Perth Stadium, Burswood.  On this occasion, we achieved testing depths of up to 20m.