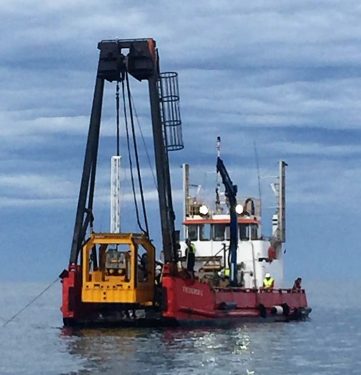 In April – May 2016, Probedrill successfully completed seabed testing for the international developer Senvion, for the Ceres Project – South Australia, .
This Project is one of the largest renewable energy projects in Australia and involves connecting a high voltage direct current cable located under the Gulf of St Vincent, directly to Adelaide's power grid.  The $1.5 billion project has development approval for up to 197 wind turbines on the Yorke Peninsula, with the first power expected to flow in 2018.
Probedrill completed a nearshore 14 day CPTu testing program for Golder Associates and also worked alongside Seas Offshore, who completed the Vibrocoring and Maritime Constructions who provided the workboat.
Using the suction anchors on our Seabed CPT set up, we were able to achieve over 10 tonnes of push from a 4.5 tonne rig, and probed down to 5m within waters that were up to 30m deep.   
With the success and smooth operation of this recent work, we look forward to the opportunity to undertake further under water work.  
Click here to see a video of the Seabed CPT in action on the Project. 
Please feel free to contact us if you are interested in obtaining further information on our Seabed CPT equipment.