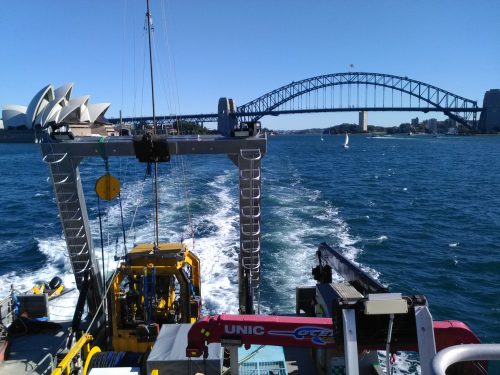 In May-June 2017, Probedrill successfully completed site investigations for the Western Harbour Tunnel & Beaches Link (WHTBL), using our Seabed CPT Pushing Frame.
Testing was conducted over five weeks in both the Middle and Western Harbours of Sydney for design of the proposed tunnels. 
The Beaches Link Tunnel will connect the Warringah Freeway, cross underneath Middle Harbour connecting the Burnt Bridge deviation at Balgowlah.
The Western Harbour Tunnel will connect WestConnex at Rozelle with the Warringah Freeway via a new tunnel beneath Sydney Harbour.
Our Seabed Pushing Frame was lowered down into waters up to 32m deep using an
A-frame workboat.  CPT testing was conducted up to 30m below the seabed, and pushed up to 96MPa before refusal.
Due to additional upgrades being made to our Seabed Pushing Frame, we also successfully conducted high quality Seismic CPT traces, Seismic DMT and Ball Probe Penetrometer testing. 
This testing was made possible due to the Seabed rig having the ability to level up on a 0-15 degree gradient mud line. 
Further information on the project can be found at the NSW Roads & Maritime website