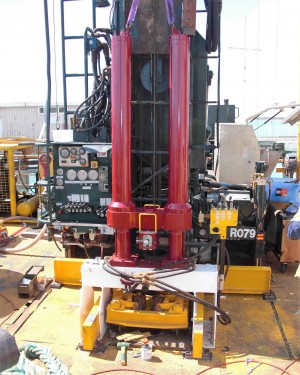 CPT Rig Specifications
Height (while travelling):
2.5m
Height (while probing)
3.85 (max. height)m
Length:
1.2m
Width:
0.5m
For use in areas such as:
Near-shore / Jack-up barge
Our 300kN Portable CPT Pushing Frame is perfect for mounting on jack-up barges to conduct near-shore CPT testing.  With the addition of equipment developed by Probedrill in-house, we have the ability to probe from zero mudline (undisturbed) in any conditions.
PUSHING FRAME SPECIFICATIONS 
| | |
| --- | --- |
| Overall Dimensions | Width: 0.5m; Length: 1.2m; Height: 2.5m (max 3.85m) |
| Gross Weight | Approx. 750kg |
| Pushing Force | Max. 300kN |
| Hydraulic Cylinders | 2 x vertical hydraulic cylinders (4" Bore, 1 ¾" Piston), stroke 1350mm with piston protection covers |
HYDRAULIC POWER PACK SPECIFICATIONS 
| | |
| --- | --- |
| Overall Dimensions | Width: 0.73m; Length: 2.0m; Height: 0.87m |
| Gross Weight | Approx. 750kg (with fuel/oil) |
| Engine | Hatz Silentpack diesel engine; 9.1kW @ 3,000rpm |
| Hydraulic Pump | Roxworth hydraulic pump – max. capacity of 80L/min |
| Hydraulic Tanks | 180 L |
| Transport | Possible with crane or forklift (light weight aluminium frame with forklift ports) |
| Additional | 2 x optional Hydraulic Power Packs available to suit barge layout |
EQUIPMENT / FEATURES 
300kN Pushing Frame
Hydraulic control unit, mounted on a console next to the pushing frame
Retractable wheel assembly for portability
Hydraulic-operated catching clamp incorporated into sounding beam
Other Equipment / Features
Portable CPT rod rack and CPT rods
Portable CPT computer and printer
Hydraulic Hoses: available in 10m or 50m lengths
2 x 3m I-beams for spreading push/pull load
Aluminium toolbox for transport and workplace storage  
SERVICES 
Geotechnical Services provided
CPT, CPTu, SCPT, SCPTu (1, 5, 10, & 15 tonne cones)
Ball Penetrometer
DMT, SDMT
Dissipation Testing
CPT casing for additional rod support
Vane Shear Testing (Electrictronically driven)
Vibrating Wire Installation
Water Sampling
Standpipe Installation (20mm and 32mm)